Events
49th IAH Online Congress, China
The International Association of Hydrogeologists (IAH) invites you to join its 49th IAH Congress held in Wuhan, China, from the 19th to the 22nd of September 2022. More than ever, this year is very special for groundwater. UNESCO and the International Groundwater Resources Assessment Centre (IGRAC) have promoted the World Water Day 2022 campaign on "Groundwater: Making the invisible visible". These organizations have conveyed data on the importance of groundwater to further promote the resource during the UN 2023 Water conference.
At unprecedented rates, climate change jeopardizes access to water resources and many societies have faced during the last decade a decrease in economic welfare. More than ever, this year is very special for groundwater. Hydrogeologists have focused on how to make one of the most valuable yet invisible resources more visible. It is therefore the year where the congress will address groundwater and human development as its central theme: "Groundwater Sustainability and Poverty Reduction".
Uncovering the potential of groundwater to improve the quality of life is just the preliminary stage of freeing societies from water scarcity. It is therefore true that access to groundwater resources can reduce poverty.  Nevertheless, groundwater can only improve the quality of life when carefully managed. And when not, it drastically portrays the disparity in economic welfare whereby those that are fortunate drill deeper whilst the rest remain highly exposed to seasonal vulnerabilities and hazards such as contamination.
Researchers and practitioners from across the world are eager to present their achievements in different fields of groundwater and how they can bring us closer to achieving the Sustainable Development Goals. The impacts of climate change on groundwater availability and recharge were discussed in an online meeting held by our IAH Groundwater and Climate Change Committee meeting during the IAH congress in Wuhan. The presentations can be acesssed through the following link.
Previous events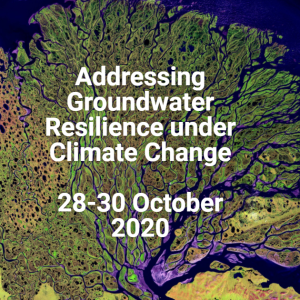 The International Water Resources Association (IWRA), jointly with UNESCO Intergovernmental Hydrological Programme (IHP), and supported by the International Association of Hydrogeologists (IAH), is excited to invite you to register for IWRA's Online Conference on "Addressing Groundwater Resilience under Climate Change" to take place from Wednesday, October 28th to Friday, October 30th 2020. We are pleased to confirm that CGCC representatives have been involved in the organisation of this event, and encourage you to participate!
Thanks to the generous support of UNESCO-IHP to this online water event, IWRA has been able to grant free access for all registered attendees. We particularly welcome participation by experts from Africa, low income countries, women and youth. This support will also ensure open access to all conference related materials.
Currently, climate change has become an undeniable major pressure on the world's freshwater resources. Yet, the effects of climate change on groundwater, the most significant freshwater resource on Earth, are still poorly understood. Somewhat neglected by policymakers and ignored by the public, groundwater management, governance and monitoring are less developed compared to surface water, globally. More up-to-date research and knowledge generation and sharing, as well as more efforts to raise awareness of the links between groundwater and climate change are also critical to ensure the sustainable management of this vital resource.
The online conference will address these challenges and priorities in order to manage resiliently groundwater resources under climate change. This conference's main goal is to, ultimately, promote the sharing and exchange of state-of-the-art scientific and policy knowledge on the links between an increased resilience of groundwater resources and climate change for the sustainable governance, use and management of these resources in all regions of the world.
Click here to access the reports, and here, to access the recordings.
For more IAH events click here!