Welcome
IAH's Commission on Groundwater and Climate Change (CGCC) is an official network of International Association of Hydrogeologists (IAH). Created in 2002, the aims of the commission are:
to improve understanding of the relationship between groundwater and climate change, and
to investigate the role of groundwater in adaptation to climate variability and change.
We hope our website will encourage you to find out more about the commission, our mission and our challenges, explore our activities and also to become involved.
IAH is an international charitable organisation that promotes sound development and management of groundwater – seen by many as the worldwide family of hydrogeologists.
---
Previous events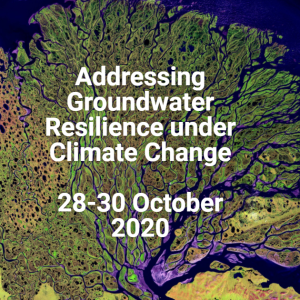 Currently, climate change has become an undeniable major additional factor influencing the world's freshwater resources. Yet, the effects of climate change on groundwater, the most significant freshwater resource on Earth, are still poorly understood. Somewhat neglected by policymakers and ignored by the public, groundwater management, governance and monitoring are less developed compared to surface water, globally. More up-to-date research and knowledge generation and sharing, as well as more efforts to raise awareness of the links between groundwater and climate change are also critical to ensure the sustainable management of this vital resource.
IWRA's Online Conference in direct collaboration with IAH and UNESCO (28 – 30 October 2020) addressed these challenges and priorities in order to manage groundwater resources under climate change in a resilient manner. The conference's main goal was to, ultimately, promote the sharing and exchange of state-of-the-art scientific and policy knowledge on the links between an increased resilience of groundwater resources and climate change for the sustainable governance, use and management of these resources in all regions of the world. It aimed to do so in an online format, planned as such from the beginning in September 2019, thereby aiming to reduce the carbon footprint and promote access to the conference for all people interested. This new IWRA event had the overarching theme of "Addressing Groundwater Resilience under Climate Change" with five different themes, as described below.
Click here to access the reports, and here, to access the recordings.